Welcome To Xandex Semiconductor Products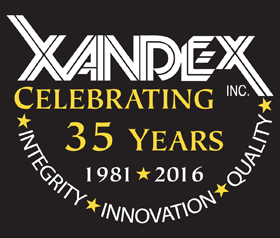 Xandex was founded in August, 1981 as a technology startup to design and manufacture products used in the semiconductor test industry. Xandex is proud to be celebrating our 36th year of providing innovative technology solutions to the semiconductor and solar energy industries.
ISO 9001-2008 Certified Quality System
World Wide Sales and Distribution of DieMark® wafer marking products
SunMizer® Solar Products Division
Xandex Investments LLC Investment Arm
Xandex was founded on Guiding Principles that have been key to our success, and are the core of our corporate culture to this day. We have chosen to incorporate the top three of these guiding principles, Integrity, Innovation and Quality in our 35th anniversary logo in recognition of the vision of our founders and the foundation of our continued success.
Quick Links
Xandex Inc. will be closed on business days for the upcoming Christmas and New Year holidays and a planned, year-end plant shut down. Please plan your product requirements accordingly. Click/tap the "Details" button for detailed closure information.
---