A4 Ink Cartridge
The DieMark A4 Pnreumatic Small Dot Ink Cartridge is the latest development in small dot pneumatic ink dot production from Xandex. Over 4 years in development and testing, the A4 Ink Cartridge, when used with the new DieMark Micro-Z Inking System, will produce uniform, repeatable ink dots in the 3.5-11 mil range, depending on ink type and pneumatic controller settings.
Available in nearly all current DieMark ink types, the A4 cartridge incorporates a 0.002 inch diameter Teflon tube inside the stainless steel needle. Each cartridge contains a minimum 1 gram of ink.
A4 Small Dot Pneumatic Ink Cartridge is available with the following DieMark Inks:
6990 Black-Order Part Number 303-1421
6993 Black-Order Part Number 303-1401
6997 Black-Order Part Number 303-1411
7824 Black-Order Part Number 303-1451
7824T Black-Order Part Number 303-1461
8103 Black-Order Part Number 306-1411

Note:DieMark Ink Cartridges are sold only in packages of 10.
A4 Ink Cartridge & The Micro-Z Inking Systems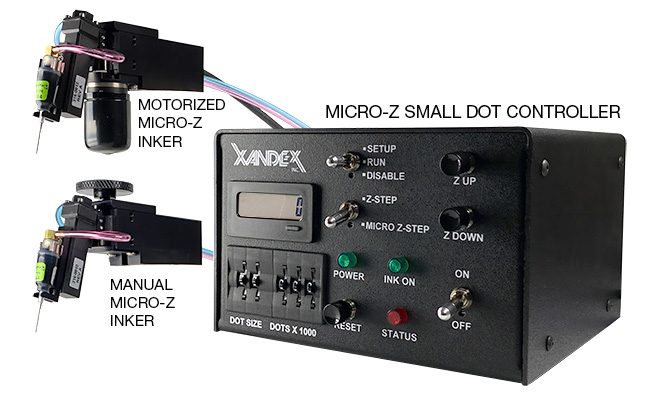 The A4 Pneumatic Ink Cartridge is designed for use with NEW Manual and Motorized DieMark Micro-Z Pneumatic Inking Systems. Xandex has not qualified the A4 Cartridge for use on any other pneumatic inking equipment. The Micro-Z Inkers, the Micro-Z Pneumatic Controller and the A4 Cartridge are optimized as a system for small ink dot production. The Micro-Z Inker can also run A5, A6 and A8 pneumatic cartridge types.*
Visit the Micro-Z Inking Systems Page
View/Download the Micro-Z Inking Systems Product Manual
*Dot Size Thumbwheel settings will vary from the existing 350-0018 Motor-Z controller. You will need to determine best Thumbwheel setting to duplicate A5-A8 dot production when using these cartridges with the new Micro-Z Inker and Controller. See product manual link, above.